THEME #45Application overview2023JUN
SCENE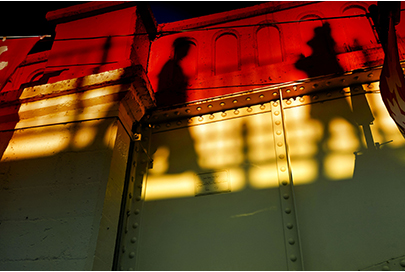 With the theme "SCENE," we welcome as jury, Kikuji Kawada, one who has pioneered Japanese photography for over 60 years. From this one word, what image comes to your mind? Is that a decisive moment, a casual sight from the everyday, or a shot in a movie? Under this theme, boundless inspiration pours out; people in the cities going on with their lives, snapshots of a sudden event, documentary photographs capturing specific cultures such as music or fashion. In all of that, individual points of view, the movement of the shutter release, the camera used, the texture of the image will be portrayed. Why not project here, the world you want to express through photography from your worldly perspective?
[Submission Period] from June 9 to August 21
[Application fee] 2,000JPY per entry
JUDGE
Kikuji Kawada
(Photographer)
Born in 1933. Joined Shinchosha in 1955 and left in 1959 to become a freelancer. He is a founding member of "VIVO."
In 1965, he published "Map," a work filled with metaphors that symbolized the historical memory of defeat, and since then, he has continued to express new images with a rigid quality that is always full of foreboding. In recent years, he has been uploading his works daily on Instagram, while thinking about photography.
STEPS FOR ENTRY
Entry Form
Please provide the necessary information and upload you're images for your entry. See guidelines for more details.
Payment
¥2,000 per entry (tax inc.).
Payment by credit card only (except JCB).
Confirmation of Entry
Once the payment has been processed, you will receive an entry confirmation email.
Judging
It will take about two months until the result announcement. This may vary depending on the number of entries and the availability of the judges.
Note that we will not be communicating on an individual basis about the state of the judging process.
Result Announcement
The Grand Prix and shortlists will be announced on this website, All relevant participants will be informedbeforehand via the email address provided during the entry process.
Please be aware that we will not be responding to inquiries about the result.
NOTE
The applicant must be older than 16 years old. If you are underthe age of 18, please apply after obtaining the consent of your parent or guardian. The registration fee is 2,000 JPY for each apply.
PRIZE
Grand Prix

100,000 JPY Cash Prize

– Portfolio Review by Kikuji Kawada
– Exposure on IMA ONLINE and IMA's official social media

Shortlist

– Exposure on IMA ONLINE and IMA official social media
– Portfolio Review by IMA

All Contestants

Special access to a limited interview video by IMA
GUIDELINES
IMA next is a photo competition that aims to support emerging photographers to succeed in the art photography world.
Theme

SCENE
– Judge:Kikuji Kawada

Submission period

From June 9, 2023 to August 9 August 21, 2023

Application fee

2,000JPY per entry.
We accept credit cards (Visa, Mastercard, American Express) and Alipay.

Who can apply?

The applicant must be older than 16 years old.
Otherwise, anyone is welcome! We have no restriction in terms of your nationality, age, gender or experience (Professional/Amateur).

* Please read the Terms of Use before applying. By submitting your application, we will assume that you agree to the Terms of Use.

How to apply

– Please go to the application form from "ENTRY", send the necessary information, and pay the application fee (¥ 2,000 per entry).
– 1~5 photographs can be uploaded for each entry, however in that case, all your photographs in the entry will be judged as 1 series. If you would like to submit multiple series, please make another entry. There is no limit to the number of entries per theme.

Image requirements

– All submissions need to be still photographs, no moving images will be accepted. All sorts of post-production processes are allowed.
– DVD/Blue-Ray submissions will be rejected.
– If the submitted work is deemed non-photographic, it may not be judged.
– The submission of 1 ~ 5 images of 10MB each are possible for 1 entry.
– Any work that violates the rights of a third party (copyright, trademark right, portrait rights) cannot be submitted. If the work includes anything created by a third party (art work, films, photographs, music…etc.) and if it may concern any other rights, there is a need for you to have gotten permission from all party involved before you enter.
COMPETITIONS
OPEN FOR ENTRIES
THEME #46
PLANT LIFE
JUDGE:
Stephen Gill
DEADLINE:
Until October 16th